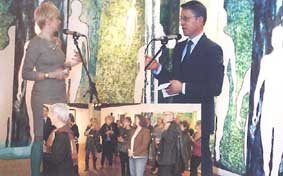 Teppo Tauriainen, Swedish Ambassor to Canada inaugurating VOID exhibition at EBA Gallery, Ottawa December 12, 2013
Double-click here to add your own text.
The Healing Power of Art
Excerpt from Birgitta Godlund's lecture 26 October1998 at Pennsylvania State University
… I have "criminal activities" at the Workshop of the Modern Museum… I regularly receive small groups of four to five young men, former drug abusers whose sentences shortly will come to an end, for workshops once a week. These short courses about identity and self respect via art are part of their adaptation to life in freedom… I make a point of giving them all a firm and generous hand shake… many of the inmates are immigrants, and again I make a point of treating them as honorary guests… while I introduce the contents of the workshop to them. In their evaluations of these art courses they have stressed this relaxed and courteous encounter as very important…. I might start with greeting [Rauchenberg's] goat and getting into the story the same way as I do sometimes for the small kids… [It is] important that I reflect upon my non-therapeutic role… [to keep it] apart from my profession as an art educator…

In contrast to the commercialized art or other pictures they are exposed to like advertisements etc they have a right to their own feelings. ...

... one way of acquiring good language skills is through the generosity of the teacher's mind. It is the same method used for teaching pre-school children to read and write, giving them leeway to express themselves without being corrected… [Take, for example] a day in the portrait gallery, where I tell them to court a girl in one of the pictures, invite her into a café and to start a conversation. Or they may find a male friend to exchange ideas with. It is like a role-play…

... showing the wonderful but for some people difficult world of modern art to people who have experienced strong and I suppose so called forbidden feelings is like having rebellious teenagers in the Museum of Modern Art. They hardly ever pose the very common question of the average middle-aged culture consumer: "Is this really art?" … inmates appreciate a place where they can go through emotions in forms and colours and contents. And I am glad to provide that physical and mental space for them.