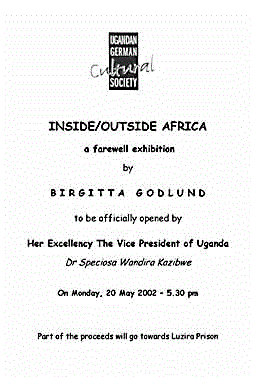 Godlund's Art: Not Reality but What You Saw
David Kaiza, The East African, June 10-16, 2002
Human perspectives may be whimsical, dissembling and sometimes disastrous. But they exist and say a lot about our inner world
The seriousness with which she approaches her work renders trivial the adjectives that are the stock in trade of art writing. Because each painting says something important about life, it is difficult also to typecast her work… without the usual rhetoric.
In Godlund, you suspect that it is more the fact that we perceive the world and not that it exists, which counts…
It is a complex, multilayered communication but one which achieves a certain magical recognition… it matters not where we come from nor who we are but that inside, we are all really the same…
It is humanistic in the basic sense that it provokes questions about equality, cements the bonds among people everywhere and makes you feel stronger about yourself… Where Westerners succumb to culture shock and dismiss what they see, Godlund sees common threads in human nature. In East Africa, beads and the multiple symbolism they embody especially attract her… Without fertility, the world wouldn't go on… [likewise] sexuality…
It is rare to find a painter who takes you so close to your humanity. It is rare too to find work so thoroughly realised that it seems that all the important questions of form and substance, often so teething, have been answered…
Inside/Outside Africa is a collection of work done over the past 10 years...[using] all media. In nature pictures, she attempts to capture a storm or the sense that an old road is really old…[one painting] gave me a momentary fright of claustrophobia. It shows windows and walls that seem to creak with age and the sense that the world ahead is sealed… Godlund saw this on a visit to Lamu. But what she has painted is not entirely what the streets of Lamu look like in reality… not a dead-end, but that split second moment when it appeared to be so, made the deception real. And that is the strength of Godlund's art. ... "It's not really reality,"she says, "but more about what you saw."
Pictures as Therapy
Birgitta Godlund Bildforum n:o 1/2002
Uganda: working on an art therapy project with ex-child soldiers, the art educator Birgitta Godlund shares her thoughts/reflects on how traumatic experiences can be illustrated/symbolized/typified in pictures/illustrations.
35 degrees Celcius. Half naked babies are crawling around among huge army tents … Small groups of children are being taught in any available shade. … These children, aged nine and up, are former rebel soldiers in the guerrilla army based near the Sudanese border… [led by] the charismatic leader and father figure Kony with his ambiguous message (Islam, Christianity, Animism and ethnic cleansing, equally)... [some children] joined [the army] purely for food and company. It has been estimated that approximately 12,000 children have joined the LRA, Lords Resistance Army, from 1995. Of these, half are thought dead.
In the last three years over 2000 of these child soldiers have fled Kony's regime of terror. But for what? In their own villages, even in their own families, the children are thought to be possessed by evil spirits. They are rejected… The girls, having been raped by older soldiers, are considered impure, as are their babies.
… Upon arrival, the children have had symbolic cleansing baths. Old clothes are burnt and the children are scrubbed thoroughly in order to be purified. Through dance and music, the traditional form of art and expression in Uganda, the children dramatize their ordeals in front of each other and the camp staff. A new life begins…
Bilder som terapi
Birgitta Godlund, Bildforum, Sweden n:o 1/2002
Från Uganda... bildterapeutiskt projekt med f d barnsoldater skickar konstpedagogen Birgitta Godlund sina reflektioner över hur traumatiska upplevelser kan gestaltas i bild. Artikelförfattaren bor sedan ett par år tilbaka i Uganda, där hon är verksam vid Makerereuniversitetets "Konstfackskola".
30 grader Celsius Mellan stora baracktält kryper halvnakna bebisar omkring... Skolundervisning med små grupper i alla tillgängliga skuggor. Men de här barnen från nio år uppåt är f d rebellsoldater från en gerillaarmé med bas i gränstrakterna till Sudan... karismatiske ledaren fadersgestalten Kony och hans diffusa budskap (islam kristendom animism och etisk rensning i lika delar) ... eller helt enkelt anslutit sig för mat och gemenskap.
Från 1995 räknar man att c:a 12 000 barn ingått i LRA, Lords Resistance Army. Hälften ska ha omkommit. De sista tre åren räknar man att över 2000 barn flytt från Konys skräckvälde. Men till vad? I sina egna byar, av sina egna familjer anses barnen vara besatta av onda andar. De är förnekade... Flickorna som våldtagits av äldre soldater anses "orena" liksom deras bebisar...
Vid ankomsten har barnen gått igenom ett symboliskt reningsbad. Gamla kläder eldas upp och man tvättar och skrubbar sig ordentligt för att bli riktigt ren. Genom dans och musik, Ugandas traditionella konst- och uttrycksform dramatiserar barnen för varandra och för den lokala lägerpersonalen vad man gått igenom. Nu börjar ett nytt liv...
Bildspråket lär man sig parallellt med skriftspråket. (Som på svenska lågstadiet "Lära sig läsa på talets grund") Observera man lär sig ett bildspråk: Det här är barn vars finmotorik utbildats kring machetes och kulsprutor, inte kring färgkritor, eller ens blyerts pennor... snabbt får möjlighet att avbörda sig sina skuldkänslor (Barnen har vittnat om att de tvingats bita av och äta upp näsorna och öronen av sina egna kamrater eller halshugga släktingar)
...för barnen är det magi att det ut ur pennan kan trilla en hel berättelse... Serieteckningar och fotografier kan bli underlag för figurer, också då de själva är huvudpersonerna. Några självporträtt görs nästan aldrig.
Barnen uppmuntras att rita av sig sina upplevelser... i GUSCU gräver barnen inte i sitt förflutna. De får med bildens hjälp metoder och tekniker att gå framåt.