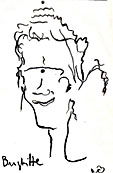 A lot of art today is in fact not meant to be purchased for a private house, says Birgitta Godlund… who has had a long experience of living among different cultures in various parts of the world…
…neither be dedicated to realistic nor to abstract artists… in an abstract artwork, "One is free to wander around by the very visual elements and patterns" that could also be found in a good realistic piece of painting… one needs "a little bit of goodwill" and patience at an abstract painting in order to understand it. But in the same breath points out that the quality of an abstract painting as well as that of the realistic work in "all societies and times are dependent on the use of techniques, underlying pure forms and the colours"…
Birgitta as a fine arts student in Bucharest. By the late Rumanian poet Nichita Stanescu
abstract works without titles, she says, may for instance spark off "a political dialogue by, for example, showing so called incomprehensible pieces of art in (say) a factory." On the other hand, the same piece of art shown in a fancy gallery may elicit a different kind of response… labelling art into strict categories could at times be difficult. The emotional experience is much more complex than that.
... artists, and the country for that matter should not, according to her, depend on private galleries as the custodians of the country's art… [there is] virtually no country which can exist without its own culture. And art is one of the major components of this… A museum of art, according to her, could therefore be one of the major means of exposing to the public that there exists serious art in the country… art workshops are held for school children… [with] certain undertakings such as research…
There is always a persistent lack of venue where their [artists'] works can be represented and where they can meet their fellow artists… having permanent venue of art works is one way of investing in one's children's future" in the form of the cultural heritage.

Art critic GM Sudarta in a talk with the artist, Jakarta 1989

… art exhibitions are to summon feelings, to produce reactions. Art is itself an expression of daily life and a means of communication…
Pop art, it is felt, is a relatively straightforward and facile way to connect difficult topics… themes outside of the conventional one of still life and nude models… willful and sometimes contrary (rebellious?)… the Modern Museum of Art in Stockholm. An interesting though exhausting period, I came to feel that the popular style was the most easily grasped of the grammar of art and led to the understanding of the classical and traditional… diversity of techniques… testing, analysis, and investigation of a new culture … describes the painting process … experimenting…
Lila Fitry Ali, Jakarta, January 1991

Bukan hanya Bali yang menjadi daya tarik di Indonesia. Negeri ini terlalu luas untuk dijelajahi. Ke-anekaragaman budaya juga meru-pakan inspirasi yang kuat, di samping alamnya clan orang-orangnya yang memiliki banyak dimensi. Sarinah sempat menemui Ken Pattern, Paul T Nagano, Carlos de Goyeneche, Birgitta Godlund, Marilies Forster-Romswinckel dan Jill Roland-Gosselin. Setelah berbincan-bincang dengan mereka, maka lahirlah tulisan di bawah ini...
Ada alasan lain pula mengapa pelukis asing ini datang ke Indonesia. Bagi Birgitta Godlund (pelukis Swedia), Jill Roland-Gosselin (pelukis Inggris) dan Marilies Forster (pelukis Austria) datang ke sini karena suami mereka ditugaskan di Indonesia... Para suami itu, ada yang bekerja di pihak swasta dan ada pula di pemerintahan. Birgitta dan Jill tinggal di Jakarta, sedangkan Marilies yang biasa dipanggil Marie tinggal di Bandung. Sudah 40 tahun ia berada di kota Kembang itu. Birgitta, yang merupakan istri orang kedua di Kedutaan Swedia telah tinggal di Indonesia sejak tahun 1987. Dan sudah pernah mengadakan pameran tunggal di Bentara Budaya, tahun 1989...
Bagi Birgitta, adalah sangat sulit iagi pelukis untuk menutup mata erhadap apa yang dilihatnya di sekelilingnya. Ia telah mengikuti tugas diplomatik suaminya ke berbagai negara. Sebelum di Indonesia, dia pernah berada di lrak dan Rumania. Dalam melukis dia banyak mengamati kehidupan sehari-hari. Taman Delakang di belakang rumahnya, kadang-kadang juga merupakan sumoer inspirasinya... Sebetulnya ia suka juga untuk mencari objek menarik bagi lukisan-lukisannya. Tapi ia punya keterbatasan, sebagai seorang asing dan atau sebagai wanita dalam mengeksplorasi tempat-tempat tertentu. Ada rasa tidak enak bila diperhatikan atau dikerumuni orang banyak. Sebagai penyelesaiannya, Birgitta memotret satu objek dari berbagai sisi. Kemudian dia balik ke studionya, mulai melukis dengan menggunakan foto-foto tersebut. Nanti dikembangkan dengan imaginasinya dan apa yang masih tertinggal di dalam memorinya. Kesulitan ini dibenarkan pula oleh Marie dan Jill...
Kalau Marie, tidak menggunakan kamera seperti Birgitta, tetapi ia selalu membawa buku sketch kecil ke mana-mana dia pergi... Bagi orang awam Indonesia, mungkin sulit bisa memahami lukisan konteks Indonesia di dalam lukisan-lukisan gaya ekspresionis. Seperti Birgitta, misalnya lebih banyak bermain dengan impresinya. Kalau ia berpikir tentang temperatur Indonesia yang sedemikian panas, maka dia akan banyak sekali menggunakan warna merah dan kuning. Perasaan density (kepadatan atau ketebalan) yang juga merupakan tipe Indonesia dapat juga disampaikan dengan dua warna ini pula. Bahkan untuk pohon palm yang hijau pun, dia bisa menggunakan warna merah, demikian pula sawah yang biasa hijau, di tangannya bisa menjadi kuning...
Semua ini merupakan refleksi panas yang luar biasa itu. Kalau berada di negerinya yang dingin itu, Swedia, Birgitta hanya memakai wama biru dan hijau yang menyejukkan. Pada bulan Mei mendatang, Birgitta, Jill, Carlos, Marie dan beberapa pelukis Masyarakat Eropa akan mengadakan pameran. Di sana ditampilkan sejumlah pelukis Eropa, dan sejumlah lagi dari Indonesia yang memiliki ciri Eropa atau pernah tinggal di sana...